GSV Theatre group has been involved in various Nukkad Natak last few days.
GSV students performed Nukkad Natak on 'Swacha Bharat' at Indian Oil Corporation on 17th July and at Sector 55 Marketplace on 23rd July which was well appreciated by spectators.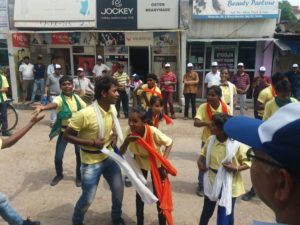 11 Students along with Ms. Geeta visited Akashwani Bhavan, Sansad Marg , New Delhi for recording of a street play " Swachhta Ki Soch". The participants received certificates and tea shirts and also a cheque of Rs 6000/-
A Drawing competition between 4th and 5th standard and poster making competition from 6th to 12th standard students was held on November 6th 2016. Members of Steria foundation also visited GSV on the day. The topics of the competition was "Earth Day" and "Save Water".
Visit to Mathura and Vrindavan
39 Boys and 29 Girls of Theater Group went to Mathura and Vrindavan along with 7 teachers on December 21st 2016. This was a complimentary trip for Theatre Group for their wonderful performance in the Play "Chanakya" in June 2016
Students from "Pathways School", Noida visited Basti school on February 9th 2017 to know about our school's functioning. This helped them to do their class project work.
Annual Play "Chauraha" was successfully performed by GSV students on 10th June at Cambridge School, Noida and on 30th June at Chinmaya Mission Auditoriam, Delhi. The Play was about the life journey of people living on roads and footpath. Renowned Santoor player & musicologist Pandit Bhajan Sopori graced the occasion as Chief Guest and Ms. Stuti Narayan Kacker, Chairperson - National Commoision for the Protection of Child Rights as Guest of Honour on 30th June. We also had special guests Mrs. Sheila Dixit, Former chief Minister of Delhi and Mr. Priyank Kanungo, Member Education on 30th June, 2017. The Students also performed Guru Vandana and Uzebekistani Dance under the guidance of Ms. Bhakti.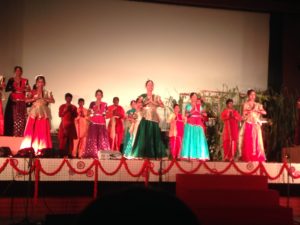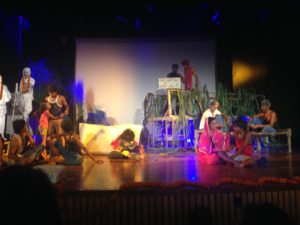 Annual Sports Day
GSV celebrated its Annual Sports Day on December 10th  2016. Mrs. Manorama Gogia resident of Sec. 26, Noida graced the occasion as Chief Guest. Senior Students participated in various games including Kho Kho, Relay Race, Kabaddi, etc. and junior students participated in different races. The winners were awarded with certificates and prizes.
       
Kite Making
17 students participated in Kite Making Event held at Adobe, Noida on January 24th, 2017. They were accompanied by Ms. Janki.
The Republic Day was celebrated by GSV Students. Teachers, core members and parents of the students also participated in the event with enthusiasm. It was heartening to see march past by NCC cadets of the school. Students also participated in cultural programme which included patriotic songs and dances.